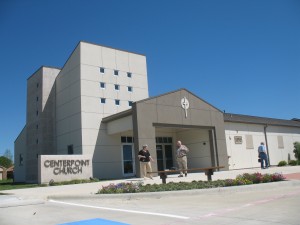 Centerpoint is a non-denominational, conservative, evangelical church. We have folks that range in age from newborns to those in their 80s, people of different skin colors and social classes.
Some Frequently Asked Questions:
What is appropriate dress at Centerpoint?
Dress is casual; you will see some people in suits and dresses, while others wear blue jeans and t-shirts. We only ask that your clothing be modest, so as not to offend other worshippers.
What is the Sunday morning schedule at Centerpoint?
On Sunday mornings, we have "Sunday School" from 9:30 to 10:30 for all ages, followed by our 90 minute worship service from 10:45 to 12:15. This time normally consists of singing a blend of contemporary praise songs and traditional hymns, corporate prayer, a 30 minute, biblically-based sermon, and observance of Communion/the Lord's Supper, along with the offering, announcements, and a closing benediction.
Which version of the Bible do you use at Centerpoint?
Our preachers use a variety of reliable Bible versions (NIV, NASB, NET, etc.), as well as interacting with the Greek and Hebrew manuscripts.
Any other questions about visiting Centerpoint? Fill out the form below or text/call us at 972-681-4172.